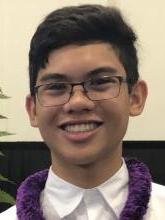 Travis K Chai Andrade '24
Role
Kanaka ʻŌiwi (Native Hawaiian)
Title
Anthropology and Archaeology
About
Bio/Description
Travis Chai Andrade is Kanaka ʻŌiwi, and was born raised on Hawaiʻi island. He is in the class of 2024 at Princeton and is studying anthropology with certificates in archaeology, and (hopefully) Indigenous studies. Travis's independent research focuses on Kū and his representations across time and space. He is also interested in understanding how interacting with heiau (traditional Hawaiian temples and places of worship) and other forms of both material and immaterial heritage can influence identity, community, nationhood, and sovereignty. Part of this research was presented at the 2023 Society for American Archaeology (SAA) Annual Conference. 
He is a research fellow for Nuclear Princeton and was a teaching assistant for the Nuclear Princeton course in Spring 2022 and 2023. He has conducted archaeological fieldwork at a Roman Villa in Portugal and was a Native American Fellow at the Peabody Essex Museum where he worked in Exhibition Planning. He is also a Mellon Mays Undergraduate Fellow.
Alongside his academic pursuits, Travis is involved with many different Native and Indigenous initiatives and advocacy groups at Princeton. He served as the co-president of Natives at Princeton for 2022 and continues to advocate for both Indigenous languages and Native Pacific Studies to be an integral part of Indigenous Studies at Princeton. He is also an undergraduate fellow with the Center for Digital Humanities and serves as an RCA for Rocky College.